Marschall Typ R mit Rips-Stripes
THIS IS NO ORDER!!
You here only enter your request wishes, so your desired dimensions in default unit of measure and select other necessary parameters as well as the amount for our tender.
For general questions AND if you want to send a Design-data-file, please push here for our contact form.
Marschall Typ R mit Rips Stripes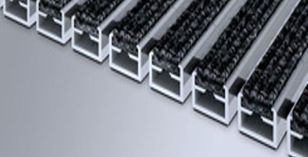 Extremely hard-wearing entrance aluminium-mat can be rolled up, also suitable for traversing;
The dirt falls in the open spaces
Application: Indoor and covered outdoor areas
Static: for surface mounted or free-standing installation
Profiles: torsion-resistant, reinforced aluminum with impact sound insulation.
Connection: Plastic coated, galvanized steel cable.
Rubber spacers. Support rail distance: 5 mm. On request also smaller or greater distances are possible.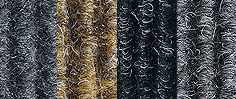 Tailor-made production according to customer requirementsin breadth and depth without compensation profile.
In principle, all geometric shapes are available.
Tread: Recessed, robust, weather-resistant strips, grooved Rips
Rips-colors: blue, beige, anthracite and light gray; Rips more colors available on request. Matt-Height: 17 or 22 mm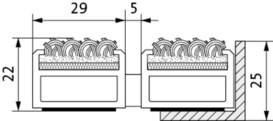 Please enter by clicking on "More informations" the mat-extent mat-height and the Rips-colors . You will then receive our offer