MONOTON™-Matten, einfarbig
MONOTON-cotton/polyester-mats, specially against slush, rain, moisture, dirt = clean inputs
for Dogs, Cats & House, Administration, Industry and Crafts "keep it simple"

Not only cuddly and especially absorbent for our 4-legged friends.
All mats shown are available in different sizes from stock selection.
The colors you can choose color palette out of the box standard.
The top of the mats are made of high-strength cotton fiber with non-fading colors. The mats remove dirt and moisture not only from the shoe soles. In Machine washable nitrile rubber enables the problem-thorough cleaning.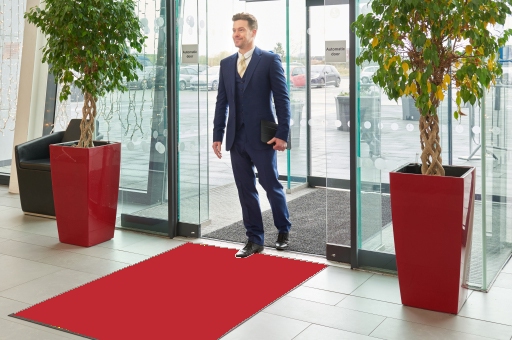 MONOTON™-Mats
machine washable up to 60 ° C and suitable for tumble drying
High-Quality Nitrile-back PVC-free - non slip, made in the EU
Starting from 31,00 EUR, incl. VAT. - 1st Class Quality - 5 year warranty
MONOTON Mat = cotton/polyester absorbs moisture from the outside and paws
Height: 7mm
carriage paid to Germany
MONOTON keep it simple, Price incl. VAT. and Freight in
Germany

| | | | |
| --- | --- | --- | --- |
| | | | |
| Slate | Holly | Cool Grey | Scarlet |
| | | | |
| Smokey Mnt | Regal Red | Sahara | Navy |
| | | | |
| Raven Black | | Taupe | Terracotta |
| --------------- | --------------- | --------------- | --------------- |
| | | | | |
| --- | --- | --- | --- | --- |
| Größe: | 60 cm x 85 cm | | Stückpreis: | 31,00 € |
| Größe: | 85 cm x 120 cm | | Stückpreis: | 49,00 € |
| Größe: | 85 cm x 150 cm | | Stückpreis: | 57,50 € |
| Größe: | 85 cm x 300 cm | | Stückpreis: | 102,95 € |
| Größe: | 115 cm x 175 cm | | Stückpreis: | 85,00 € |
| Größe: | 115 cm x 240 cm | | Stückpreis: | 110,50 € |