Kokosvelour mit flexiblem Vinylrücken und 25mm breitem Vinyl-Randprofil
THIS IS NO ORDER!!
You here only enter your request wishes, so your desired dimensions in default unit of measure and select other necessary parameters as well as the amount for our tender.
For general questions AND if you want to send a Design-data-file, please push here for our contact form.
Kokosvelour mit Randprofil, rechtwinklig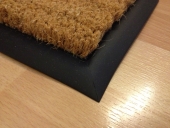 Material: Kokosvelours mit flexibler Vinyl-Rückenbeschichtung und 25mm breitem,
1-, 2-, 3-seitigem oder umlaufendem Vinyl-Randprofil
Mattenfarbe: natur oder farbig
Höhen: 14, 16, 20, 22 , 24, 27 oder 30 mm
Randprofil-Farbe: schwarz, grau, rot, grün, blau => Höhen: 17 mm
Maßanfertigungen: Kokosmatten werden in jeder gewünschten Größe und Form (gegebenenfalls mehrteilig) geliefert.

Geben Sie nachfolgend einfach die gewünschte Matten-Größe inklusive Randprofil, Mattenfarbe und Höhe ein.