Kleen-Way™ individually, select from 44 standard colors
THIS IS NO ORDER!!
You here only enter your request wishes, so your desired dimensions in default unit of measure and select other necessary parameters as well as the amount for our tender.
For general questions AND if you want to send a Design-data-file, please push here for our contact form.
Kleen-Way-Bahnen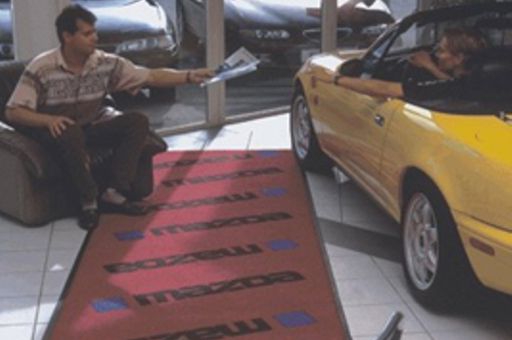 The S & S - Kleen - Way lanes customization according to customer requirements and printed in proven JetPrint process . They are available in 4 different widths and up to 20 linear meters . Available and protect as dust control runner inside of the building from contamination and are –printed with any message – at the same time a very " long card" of your home.
Your top is made of 100 % crush polyamide ( high-twist nylon ) and the PVC backing ensures an appropriate maintenance . Although Kleen - Way is not machine washable , so is through the dense Floor cleaning ( such as carpet cleaning ) problem.
Unit-price from 42,55 EURO inkluding VAT
Click on "Online kaufen" and select from there au standard sizes and colors.

C
lick for: F

a

r

b

p

a

l

e

t

t

e: monochrome -JetPrint Mats,

in your desired size
Click for Technical Data


Standardwidth: 100, 120, 160 and 200 cm including S

ide-

Border (

without lateral margin: minus about 3 cm

)
Standardlength: up to 20 m
Adhesive edge

:
possible at the beginning and end of a track
Garanty:

With proper care, we grant 2 years warranty

.